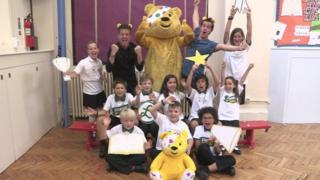 Dick and Dom launch Children In Need
Dick and Dom have launched this year's Children In Need appeal by surprising school kids in Twickenham.
The CBBC duo made their special trip, along with Pudsey the Bear, to find out what great ideas the kids have to raise money this year.
Children In Need is a campaign held in the United Kingdom every year to raise money for charity.
Human lollipops? And walking to school wrapped in toilet paper? Watch the video to find out what other wacky ideas they came up with!