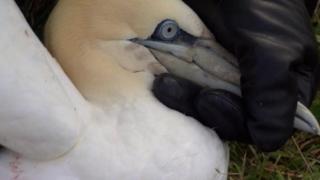 Seabird rescued from cliff top
A team of rescuers have saved a Gannet trapped by old fishing line on the side of a cliff in Bempton in East Yorkshire.
The sea bird was spotted dangling high above the ground in desperate need of help.
A specialist ropes team from the RSPCA abseiled down the cliff face and after a few attempts managed to safely place the stranded bird in a sack, which was then lifted to safety.
The gannet was then assessed by a vet who believes it's injured foot will heal.
There are approximately 30,000 gannets at the reserve.
Watch the video to see how the rescuers managed to save the bird and find out what challenges were involved.