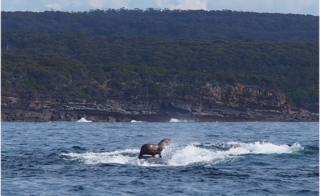 Robyn Malcolm / Diimex.com
An Australian photographer has captured the incredible moment a seal was seen surfing on the back of a humpback whale.
She spotted the daredevil seal on a whale-watching trip near Eden in New South Wales, Australia. But she only realised she had taken the unusual picture when she went through the photos later.
The whales and seals were in a feeding frenzy and the seal jumped on the back of the whale to get to calmer waters.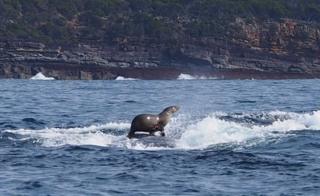 Robyn Malcolm / Diimex.com
Animal experts say that seals riding on whales is very rare. Whale expert Geoff Ross, who works in New South Wales said: "The only other time was a seal trying to get away from a killer whale."
Ms Malcolm insisted that the photo was not fake, saying: "I'm positive, because I don't know how to use Photoshop. And I do still have it on the camera so I can prove it."