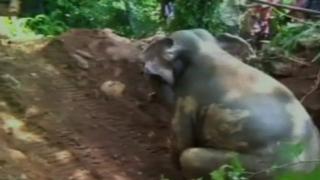 Baby elephant rescued from hole
Ever wondered how you'd get an elephant out of a hole?
When a 6-year-old elephant fell down a well in the state of Kerala in India, people working in the forest nearby used a digger to get it out.
They made the hole bigger and created a ramp, which the animal could then climb up by itself and run away fast.
Watch the video to see the moment it managed to get up the bank to safety.