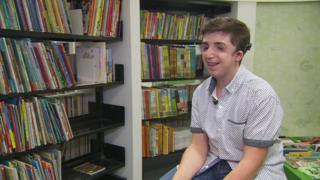 A schoolboy has confronted a top publisher over the lack of disabled characters in the books he reads.
14-year-old Frankie was born with a disability and feels there simply aren't enough characters from different backgrounds, races or abilities in the books he reads.
Watch Martin's report as Frankie tells us more about his concerns and challenges a top book publisher about what they're doing to include more children like him in books
Reuben had concerns about the books he was finding to read.
He says there aren't enough books that tackle the issue of race.
He says there should be more diversity in children's books and he hopes it will get better in the future.
Book Trust Ambassador and CBeebies presenter Cerrie Burnell has published a couple of books that raise issues about diversity in books.
Snowflakes, is a children's picture book which tackles issues of race.
She has also written Mermaid about a boy called Luka, who has has lots of adventures with a mermaid who has to use a wheelchair.
Here, she talks about the shortage of characters that inspired her when she was growing up.