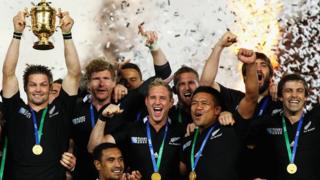 Cameron Spencer
The eighth Rugby World Cup kicks-off on Friday 18 September at Twickenham Stadium in London.
Defending champions New Zealand will be looking to do what no other team has done before - claim back-to-back titles.
But England, Ireland, South Africa, Australia, Wales and France all have the potential to be crowned 2015 Rugby World Cup champions in what is shaping up to be the most competitive tournament ever.
Here's the fixtures and groups for the 2015 Rugby World Cup hosted by England.
Pool A

AllSport/Getty Images
Teams - Australia, England, Fiji, Uruguay and Wales
Fri 18 Sep - England v Fiji (Twickenham), 8pm
Sun 20 Sep - Wales v Uruguay (Cardiff), 2.30pm
Wed 23 Sep - Australia v Fiji (Cardiff), 4.45pm
Sat 26 Sep - England v Wales (Twickenham), 8pm
Sun 27 Sep - Australia v Uruguay (Villa Park), 12 noon
Thu 1 Oct - Wales v Fiji (Cardiff), 4.45pm
Sat 3 Oct - England v Australia (Twickenham), 8pm
Tue 6 Oct - Fiji v Uruguay (Milton Keynes), 8pm
Sat 10 Oct - Australia v Wales (Twickenham), 4.45pm
Sat 10 Oct - England v Uruguay (Manchester), 8pm
Pool B

PA
Teams - Japan, Samoa, Scotland, South Africa and United States
Sat 19 Sep - South Africa v Japan (Brighton), 4.45pm
Sun 20 Sep - Samoa v USA (Brighton), 12 noon
Wed 23 Sep - Scotland v Japan (Gloucester), 2.30pm
Sat 26 Sep - South Africa v Samoa (Birmingham), 4.45pm
Sun 27 Sep - Scotland v USA (Leeds), 2.30pm
Sat 3 Oct - Samoa v Japan (Milton Keynes), 2.30pm
Sat 3 Oct - South Africa v Scotland (Newcastle), 4.45pm
Wed 7 Oct - South Africa v USA (Olympic Stadium), 4.45pm
Sat 10 Oct - Samoa v Scotland (Newcastle), 2.30pm
Sun 11 Oct - USA v Japan (Gloucester), 8pm
Pool C

AFP/Getty Images
Teams - Argentina, Georgia, Namibia, New Zealand and Tonga
Sat 19 Sep - Tonga v Georgia (Gloucester), 12 noon
Sun 20 Sep - New Zealand v Argentina (Wembley), 4.45pm
Thu 24 Sep - New Zealand v Namibia (Olympic Stadium), 8pm
Fri 25 Sep - Argentina v Georgia (Gloucester), 4.45pm
Tue 29 Sep - Tonga v Namibia (Exeter), 4.45pm
Fri 2 Oct - New Zealand v Georgia (Cardiff), 8pm
Sun 4 Oct - Argentina v Tonga (Leicester), 2.30pm
Wed 7 Oct - Namibia v Georgia (Exeter), 8pm
Fri 9 Oct - New Zealand v Tonga (Newcastle), 8pm
Sun 11 Oct - Argentina v Namibia (Leicester), 12 noon
Pool D

PA
Teams - Canada, France, Ireland, Italy and Romania
Sat 19 Sep - Ireland v Canada (Cardiff), 2.30pm
Sat 19 Sep - France v Italy (Twickenham), 8pm
Wed 23 Sep - France v Romania (Olympic Stadium), 8pm
Sat 26 Sep - Italy v Canada (Leeds), 2.30pm
Sun 27 Sep - Ireland v Romania (Wembley Stadium), 4.45pm
Thu 1 Oct - France v Canada (Milton Keynes), 8pm
Sun 4 Oct - Ireland v Italy (Olympic Stadium), 4.45pm
Tue 6 Oct - Canada v Romania (Leicester), 4.45pm
Sun 11 Oct - Italy v Romania (Exeter), 2.30pm
Sun 11 Oct - France v Ireland (Cardiff), 4.45pm
Quarter-finals

AP
Sat 17 Oct - South Africa v Wales (Twickenham), 4pm
Sat 17 Oct - New Zealand v France (Cardiff), 8pm
Sun 18 Oct - Ireland v Argentina (Cardiff), 1pm
Sun 18 Oct - Australia v Scotland (Twickenham), 4pm
Semi-finals
Sat 24 Oct - Winner C/Second D v Winner B/Second A (Twickenham), 4pm
Sun 25 Oct - Winner D /Second C v Winner A/Second B (Twickenham), 4pm
Finals
Fri 30 Oct - Bronze medal match (Olympic Stadium), 8pm
Sat 31 Oct - Final (Twickenham), 4pm