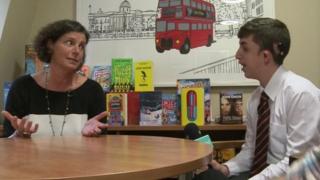 Boy confronts publishers on diversity in books
Millions of us venture into imaginary worlds every day through the books we read. But one schoolboy has confronted a top publisher over the lack of disabled characters in the books he reads.
14-year-old Frankie, who was born with a disability, thinks there simply aren't enough characters from different backgrounds, races or abilities in the books he reads.
Newsround sent Frankie to speak to the Head of Children's and Education Books, at publishers Bloomsbury, to ask why they're not doing more to include children like him.