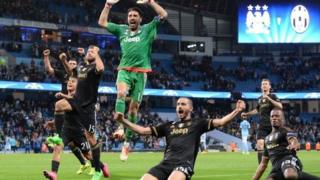 AFP
Manchester City's Champions League campaign got off to a poor start with a home defeat by last season's runners-up, Italian giants Juventus.
City, who have struggled to make a big impact in the Champions League, looked to be on course for victory when Juventus defender Giorgio Chiellini scored an own goal.
The Italians then produced an impressive fight back. MaroMandzukic scored the equaliser before Alvaro Morata curled a left-foot strike beyond City keeper Joe Hart for the winner.
Raheem Sterling had two big opportunities for City but wasted both as Manuel Pellegrini's side find themselves on the back foot once more in the Champions League.