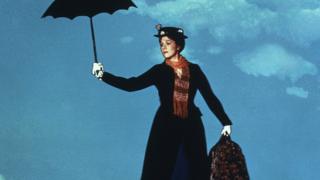 AP
Disney is making a sequel to its 1964 classic Mary Poppins.
The live-action film will be based on author PL Travers' series of books about the no-nonsense but magical nanny.
Actress Anne Hathaway, famous for starring in the Disney film The Princess Diaries, is favourite to land the lead role.
We wanted to know which actress you would like to star in the new film as Mary Poppins.
Your Comments
I think Anne Hathaway would be a perfect Mary Poppins. She was so great in the Princess Diaries!
Niamh, Northern Ireland
I think that Eva Green should play the new Mary Poppins because she was amazing in Tim Burton's Dark Shadows.
Hazel, St. Helens, England
Megan Fox should be Mary Poppins.
Lilly, Kent, England
I think Mary Poppins should be Anne Hathaway because she's young and deserves the role. My first choice would have been the famous singer Vera Lynn but she passed away a few years ago.
Toby, Orpington, England
I think it should be Anne Hathaway.
Jessica, London, England
This chat page is now closed. Thank you for all your comments.