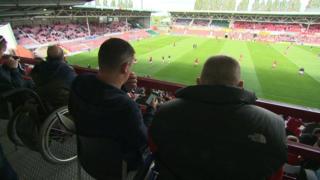 Premier League disabled fans warning
Premier League football clubs need to do more to help disabled fans, the government has warned.
An investigation into access to different grounds found that three quarters of the teams in the top league don't provide enough spaces for wheelchair users.
Premier League bosses have promised to improve access to all of its club grounds by August 2017.
The government has warned that if they don't do that then new laws will be created to force them to make changes.