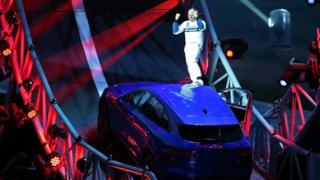 Car performs record-breaking loop
A new Jaguar car has performed the biggest 360 degree loop, in Frankfurt, Germany.
The Jaguar F-PACE was driven by British stunt driver Terry Grant, who faced forces stronger than six times gravity and more than a space shuttle pilot.
Guinness World Records said the car successfully completed a 19.08-metre-tall, 360 degree circle.
Watch this clip of the car performing the stunt.