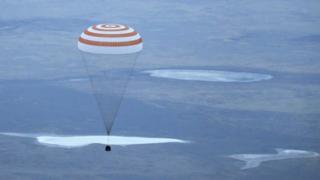 Spacemen come back down to Earth
Record-breaking Russian cosmonaut Gennady Padalka has returned safely to Earth after spending 879 days in orbit.
The world's most experienced space flier was also joined by two crewmates, including Denmark's first-ever astronaut.
Andreas Mogensen of the European Space Agency and Aidyn Aimbetov both spent less than 10 days in orbit.
The three spacemen made their parachute landing in central Kazakhstan after leaving the International Space Station (ISS) at 9.39pm on Friday.
Mogensen said the crew had had "a fantastic mission" at the ISS, whose nine members represented five different nationalities at the time.
"This is a superb example of what can be achieved together when we work together across borders and boundaries," he added.
Pictures from NASA TV.