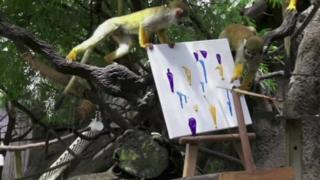 Arty animals help raise charity funds
Elephants, monkeys and giraffes have been busy producing artwork at a zoo in America to raise money for charity.
By holding paintbrushes in their mouths and stamping their feet in special paint, the cute creatures have created fun patterns and prints.
Last year the zoo auctioned off twelve paintings and raised nearly $10,000.
The money raised from the new pieces will be used for conservation projects for animals in the wild.
Jenny has more...