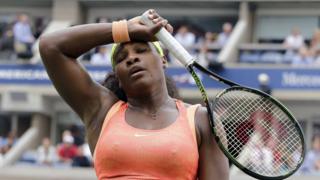 AP
Tennis superstar Serena Williams has been knocked out of the US Open.
Serena was two wins from completing the calendar Grand Slam but lost 2-6 6-4 6-4 to unseeded Italian Roberta Vinci in the semi-finals.
"This is monumental. It's a shocker," two-time champion Tracy Austin told the BBC.
"This is one of the biggest upsets in the history of tennis, because of what was on the line," Tracy added.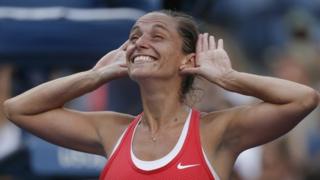 Reuters
Serena won this year's Wimbledon tournament and went into Friday's semi-final on a 33-match winning streak.
She had hoped to match Steffi Graf's 1988 sweep off all four majors in the same year, and was up against a player she had beaten four times without dropping a set.
Roberta is ranked 43 in the world and was playing in her first Grand Slam semi-final.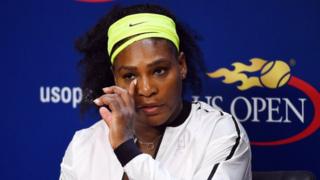 Reuters
Serena praised Roberta, saying she "played literally out of her mind", but the American player did not want to discuss her own feelings.
"I don't want to talk about how disappointing it is for me," she said. "If you have any other questions, I'm open for that."
'I was a little bit scared'
Roberta said: "This is the best match that I played in my life,"
"At the end when I made a break, 4-3, and served, I was a little bit scared. My arm was like (shaking). I'm not joking.
"But in my mind, I say, 'Don't think about this, because maybe you have more pressure. Stay calm, relax, and breathe during every single point.
"Don't think that you have Serena on the other side of the court."
Roberta will now meet her good friend Flavia Pennetta in the final, 16 years after they won the French Open junior doubles title together.