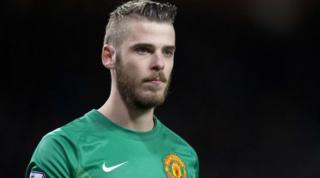 Getty Images
Manchester United goalkeeper, David De Gea, has decided to stay at Old Trafford after signing a 4-year contract with the club.
The Spanish player was set to join Real Madrid but the deal fell through.
The new contract means De Gea will be at Manchester United until at least 2019.
De Gea said, 'I am delighted to be starting this new chapter in my United career'.
Manchester United are facing Liverpool tomorrow in the Premier League.