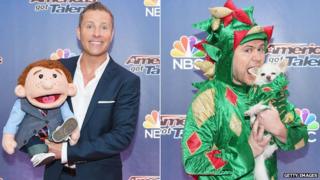 Getty Images
Three British acts are competing in the finals of America's Got Talent, the US TV show.
Comic and magician John Van der Put, who performs as Piff the Magic Dragon, ventriloquist Paul Zerdin and Stevie Starr, The Professional Regurgitator, have all made it through.
They join a line-up of 10 competing for the top prize of $1 million (£645,000) and their own Las Vegas show.
Van der Put and Zerdin are from London, and Starr is from Glasgow.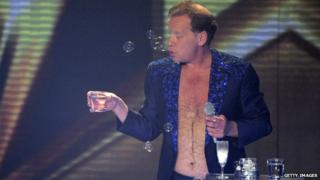 Getty Images
Starr, the professional regurgitator, swallowed smoke bubbles and a raw egg before bringing them back up in his semi final performance. He also took part in Britain's Got Talent in 2010.
Van der Put, who often performs with Mr Piffles, a Chihuahua in a dragon costume, secured his place by performing card tricks for the panel of judges.
And during the semi-final, Zerdin used a mask to turn one of the judges into a human ventriloquist's dummy, getting him on stage to "audition" for the others.
The show's final, featuring former Spice Girl Mel B as one of the five judges, will air on American television on September 15 and 16.