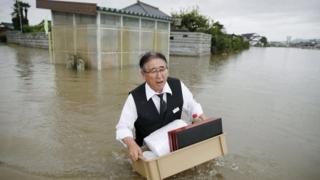 Major floods hit Japan after storm
Major flooding has forced more than 90,000 people to leave their homes in Japan.
Heavy rain has caused landslides in the north-east of the country.
The city of Joso, north of the capital, Tokyo, was hit by a wall of water after the river nearby burst its banks.
It comes a day after a tropical storm caused winds of nearly 80 miles an hour.
Watch Ayshah's report to find out more.