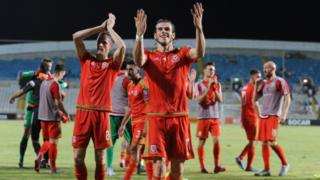 PA
Wales are gearing up for their match against Israel today for the chance to book their place in the Euro 2016 finals.
They are currently top of Group B and have only lost once in their past 11 matches.
In June 2015, Wales claimed a huge 1-0 win against Belgium to regain the top spot in their Euro 2016 qualifying group and took a huge stride towards getting into their first major tournament for 57 years.
The four nations have never previously qualified for the same major international tournament at the same time - but all remain hopeful of reaching next summer's tournament in France.
Can Wales do it?
This chat is now closed, thanks for sending in your comments.
Your Comments
I think that Wales can qualify for the Euro 2016 because they have a very strong team and especially with Gareth Bale on their side.
Leon, 10, Northern Ireland
Wales will qualify no matter what they're amazing! The score will probably be 3-0 (really hope that happens). Wales you are amazing, just try really hard and I know you'll win!
Stephanie, 13, London
I think that Wales will win against Israel.
Aine, 10, Cardiff
I think Wales can qualify! The score will be 2-0, so go on Wales!
Muhammad, 10, Nottinghamshire
I'm going to see them and I think Gareth Bale will score the wining goal. Good luck Wales!!
Tal, 10, Llangadfan in Wales