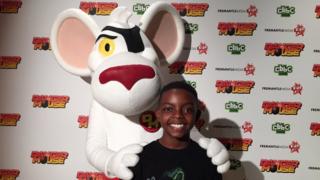 Newsround at the Danger Mouse premiere
He has white fur, twitchy whiskers and is a world class secret agent - we're talking about Danger Mouse.
Danger Mouse first appeared on TV back in 1981, but the cheeky rodent will return to CBBC for a new animated series later this month.
The series follows the story of super-spy Danger Mouse and his faithful sidekick Penfold, as they attempt to defeat the evil villain, Baron Greenback.
We sent Newsround viewer Kavern down to the premiere to investigate.