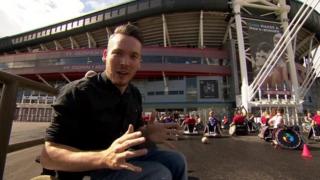 Kids take up wheelchair rugby
The greatest rugby teams in the world are preparing for the World Cup 2015 kick off.
The eighth Rugby World Cup will be hosted by England from 18 September to 31 October.
Ireland, Scotland and Wales have all now announced their final squads.
So we sent Martin to meet some kids who've already been inspired to take up the sport... but with a bit of a twist.