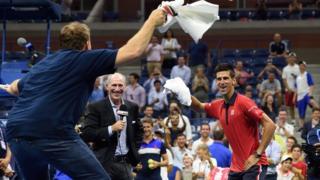 Djokovic does Gangnam dance with fan
World number one Novak Djokovic has wowed fans by performing a Gangnam style dance on court at the US Open tennis tournament.
It happened after his second round win over Andreas Haider-Maurer when he some how found the energy to have a celebratory boogie.
The Wimbledon winner was approached by a fan who started dancing in front of him.
But rather than laugh it off Djokovic joined in before high-fiving the fan and posing for photos.
We hope to see more moves in the next round.