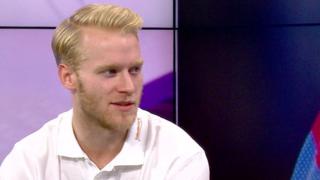 Peacock: School Games is full of stars
When you watch superstars winning medals at the Olympics and the Paralympics it's easy to forget they all had to start somewhere.
For many the first experience of coping with the nerves at a big multi-sport event came at the School Games. It includes opening and closing ceremonies and even an athletes' village.
This year's event starts today in Manchester and hundreds of children from around the country will be taking part.
Paralympic champion Jonnie Peacock, who used the School Games as a launch pad to stardom, came in to the Newsround studio to tell us more about the event.