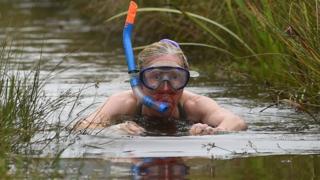 Snorkellers brave mud in bog race
Competitors from around the world have met in Llanwrtyd Wells, Wales to take part in the World Bog Snorkelling Championships.
More then 150 men and women swam through the peat bog while being timed by judges.
They had to get through the 55 metre long course without using any traditional swimming strokes such as front crawl.
The men's champion was Haydn Pitchforth from Leeds with Kirsty Johnson taking the women's title in a super quick time of one minute and 22.56 seconds.
Please do not try this where you live. The men and women at this event were supervised for safety reasons.