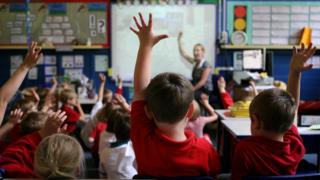 PA
The end of the summer summer holidays is here and lots of you will be putting on your uniforms and heading back to school.
For some of you this might mean making the step to secondary school.
Here's a look at what kind of things you can expect when you start high school.
Here at Newsround we want to see your pictures from the first day of school!
Send us snaps of you in your uniforms, and tell us how you feel about starting at high school for the first time.
Or maybe you're returning to your school for the new term - what stuff are you looking forward to most this year? What things make you laugh about your school? What are the coolest things about school? The least cool?

Send us your first day of school snaps and stories
Take a picture of you in your uniform. (it could be a selfie or ask a parent/guardian to help)

Tell us how your first day back at school went.

Did you catch up with your friends, how were your lessons?
Send your pictures to newsroundpix@bbc.co.uk
Make sure you include a telephone number - we can't use your photo without it, and never put yourself at risk to take a photo.
You must ask your parent, teacher or guardian for permission before you send us a picture.
We may show your picture on our website or in our TV bulletins. We'll show your first name and which town you're from - but we won't use your details for anything else.