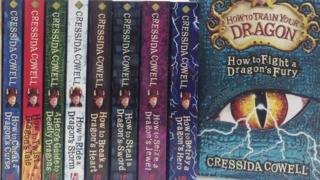 The author behind the How to Train Your Dragon books is coming to visit us at Newsround HQ and we want to put your questions to her.
Cressida Cowell is the brains behind the hugely successful stories, which have also been turned into a Hollywood movie and TV series.
She's just about to release "How to Fight a Dragon's Fury", the last story in the collection, and we're giving you the chance to ask her anything you want.
Whether it's how she comes up with ideas, or tips on becoming a professional writer? Perhaps you'd like to know if she's ever tried to train a dragon or what she thought of the film version of her book?
Whatever it is send in your questions and we'll pick some of the best ones to ask her.
This page is now closed for questions, thanks for sending them in!