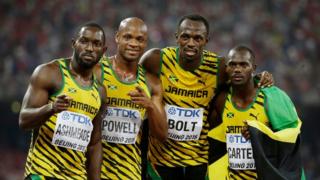 Glory for Bolt as Jamaica wins relay
Usain Bolt wins his third gold of the World Athletics Championships by leading home Jamaica in the 4x100m relay - but Great Britain throw away their chance of a medal on the final baton change.
In a race littered with mistakes, the United States were disqualified, leaving China to win silver and Canada to take bronze as Jamaica cruised home in 37.36 seconds.
Great Britain were in a great position to grab a medal until James Ellington failed to get the baton to CJ Ujah for the final leg.
Available to UK users only