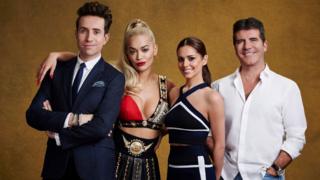 SYCO/THAMES TV
The X Factor returned to our TV screens this weekend with the hope of finding the world's next big music superstar.
The new series has two new presenters, Caroline Flack and Olly Murs, and two brand new judges.
Pop star Rita Ora and BBC Radio 1 presenter Nick Grimshaw have joined the judging panel for the first time.
We wanted to know what you thought of the new revamped show.
Your Comments
I do like the new judge Nick Grimshaw but I think they should have stuck with Louis Walsh.
Georgia, Rotherham, England
I loved the new show and I can't wait to see more. I loved the girl group Fourth Power. They were amazing and the new judges are doing great.
Teagan, London, England
It was really funny and entertaining! I love the new judges!
Cassie, Scotland
I thought The X Factor was amazing last night and I loved the last act. I'm looking forward to next week.
Mia, Huddersfield, England
I think the judges are better although I do miss Louis Walsh. The presenters are amazing because Olly Murs was on The X Factor so he knows the pressure. The new contenders might be better than the previous contenders. My favourite act so far is the girl group Fourth Power who sang 'Bang Bang' by Nicki Minaj, Ariana Grande and Jessie J.
Anita, Essex, England
I thought The X Factor was fantastic. I really like Rita Ora and Nick Grimshaw on the judging panel. I think they're great!
Scarlet, Reading, England
I only like it because it's funny if they are rubbish. It's so funny.
Aaron, United Kingdom
I really love Rita Ora and Nick Grimshaw but I am not so sure about Simon.
Rebecca, London, England
I watched The X Factor and I liked it when the lady said "techno techno ow ow ow."
Dunya, London, England
I think the new X Factor is great because there are loads of new singers waiting to be fresh new stars.
Maya, Birmingham, England
This chat page is now closed. Thanks for sending in your comments.