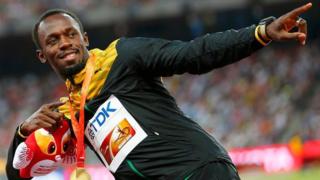 Could Usain Bolt retire soon?
Jamaica's Usain Bolt is expected to take part in the men's 4x100 metres relay at the World Athletics Championships in Beijing, China, on Saturday.
If he wins the race, Usain can add the gold to his 100m and 200m victories at this year's event.
There have been some suggestions though that this could be the last world championships Bolt competes in.
Martin's spoke to former Olympic champion Michael Johnson to find out what he thinks Bolt will do.
Pictures from BBC Sport