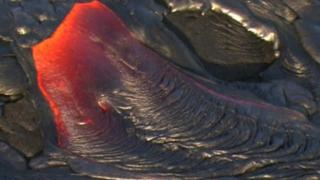 New lava eruption from Hawaii volcano
A thick stream of lava has erupted from a newly formed opening on a volcano on Hawaii's Big Island.
The Kilauea volcano is one of the most active in the world, and has been erupting non-stop for 32 years.
The lava river trickled down the side towards the surrounding forests on the eastern side of the Island.
Scientists say this new lava flow shouldn't cause a problem for the people who live nearby.