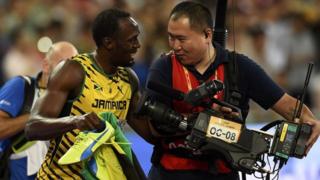 Usain Bolt takes a tumble
Sprinting legend Usain Bolt took a bit of a tumble at the World Athletics Championships in Beijing.
After winning gold in the 200m sprint, Usain ran over to thank the audience for their support.
However, a Chinese camerman riding a segway, lost control and crashed into Bolt knocking them both over.
Luckily they weren't hurt and Bolt sprang back up again.
Usain said he doesn't think the fall will impact his next race in the men's 4x100m relay on Saturday.