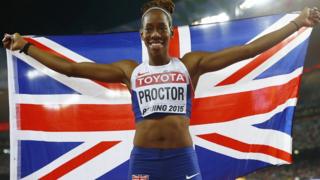 Reuters
Shara Proctor has become the first British woman to jump over seven metres in the long jump final at the World Athletics Championships in Beijing in China.
The 26-year-old broke the British record with her third round jump of 7.07 metres and picked up the silver medal too.
"I saw it. I was happy, but I was still ready to compete because the girls are competitors. Silver medal - I can't be more happy," she said.
Tianna Bartoletta, from America, won gold with her last jump of 7.14 m and Ivana Spanovic from Serbia finished third with her best jump of 7.01 m.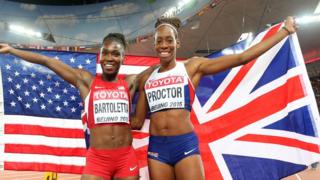 EPA
Lorraine Ugen and Katarina Johnson-Thompson also from Great Britain competed in the final.
Ugen finished in fifth place - her best jump measured 6.85 m.
Johnson-Thompson, who normally competes in the heptathlon, was 11th with a jump of 6.63 m