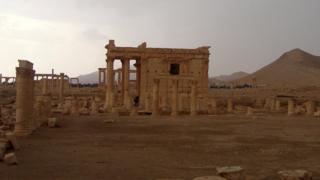 Reuters
Oxford and Harvard universities plan to create a record of ancient buildings and artefacts in the Middle East using 3-D cameras.
They're hoping to send out the cameras to countries like Iraq and Syria to protect sites that could be at risk.
Here some ancient temples and monuments have been deliberately destroyed by a group called Islamic State.
IS say they disagree with what the statues and architecture represent.
The team from the Institute for Digital Archaeology want local people to mainly take the images.
They're hoping that by making good records of what these ancient artefacts and buildings look like if any more are damaged or torn down then it could be possible to repair or even rebuild them.
Destroyed
The 2,000-year-old Temple of Baalshamin in the ancient city of Palmyra in Syria has already been blown up by IS.
Palmyra used to be a popular tourist attraction that was named as a United Nations World Heritage site.