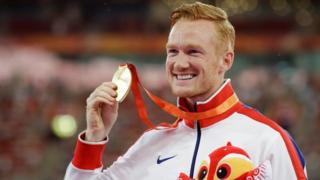 Why Greg Rutherford loves his job
Greg Rutherford has received his gold medal, after taking first place in long jump at the World Athletics Championships.
He made history as the fifth British athlete ever to be the World, Olympic, Commonwealth, and European champion at the same time.
Sally Gunnell and Linford Christie, who are part of the same group, have both sent Rutherford messages to welcome him to the elite club.
He says that being a long-jump champion is 'a ridiculous job if you think about it', but loves it and is very lucky to have it.
Despite his success, Rutherford can't take it easy just yet, as he'll be competing at the Diamond League in Switzerland next week, and then starting training for Rio 2016.