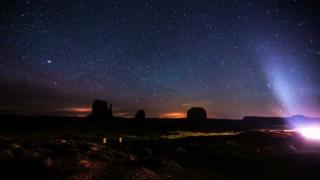 Giant honey moon passes across sky
An amazing time-lapse has been captured of the sun, storms and stars passing over three landmarks in America.
The pictures were taken in Monument Valley, Arizona, and at the Trona Pinnacles and Red Rock Canyon in California.
The glowing fireball resembling a meteor was a giant "honey moon" passing in time-lapse across the sky.
The footage is made up of over 10,000 thousand still photographs, which were put together by film-makers Gavin Heffernan and Harun Mehmedinović.
Footage courtesy of BBC Earth.