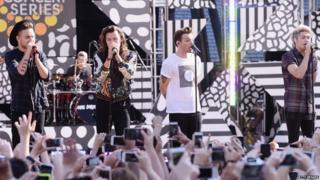 Getty Images
One Direction have confirmed that they are going to take a break next March and spend a year pursuing different projects.
So we want to know what you think the boys should do during their time off from the band?
Maybe you think they should work on solo music, or perhaps do something completely different, train to be a teacher or climb Mount Everest.
Your Comments
I think they should enjoy life for once in their break. I think they should be able to live life without the paparazzi around them for at least a year.
Aisha, 11, Birmingham
Rest, spend time with their families and friends, enjoy a 'normal' life for once. I don't like them as a band but they definitely deserve a break.
Amy, 13
I think they are probably going to work on solo material and make some more money.
Hannah, 13, Cheshire
This chat page is now closed. Thank you for your comments.