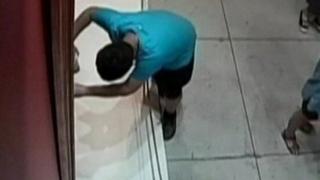 Boy trips and rips £1m painting
CCTV footage has captured the moment that a twelve-year-old tripped and accidentally punched a hole through a 17th century painting.
The school boy stumbled and reached out to break his fall but hit the artwork by mistake, causing a tear.
It happened at an art exhibition in Taiwan and the painting concerned was called 'Flowers'.
Organisers at the gallery told a local news agency that it was an accident and the boy should not be blamed.
They've said they he will not have to pay for the damage.