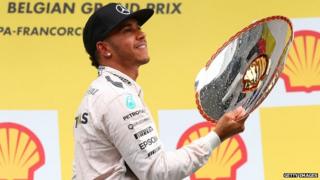 Getty Images
Formula One World Champ Lewis Hamilton has won the Belgian Grand Prix but insists it's "way too early" to start thinking about winning the world title.
It's his sixth victory in 11 races this season and is already a race win ahead of Mercedes team-mate Nico Rosberg - with eight races remaining.
"I felt good when I woke up today. I am the strongest and happiest I've ever been in my life. I love my job - it's the greatest job in the world, " said the two-time title winning driver.
Rosberg finished second and Lotus's Romain Grosjean took third, leap-frogging Ferrari's Sebastian Vettel who suffered a tyre failure with just two laps to go.