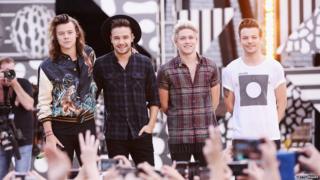 Getty Images
One Direction fans...look away now.
According to a report in a national newspaper, Harry Styles, Liam Payne, Louis Tomlinson and Niall Horan want to take a break from the band next year to concentrate on solo projects.
There's been no confirmation from 1D themselves yet.
1D played in Chicago on the second leg of their On the Road Again Tour last night and have nine more performances in the USA, followed by another 25 concerts in the UK and Ireland.
According to the reports, there's "a lot of interest" in Harry from Hollywood and there are rumours Louis could be a judge on The X Factor.
So, what do you think of the reports? Who do you think would be the better solo artist from the group?
Your comments
"I think 1 Direction should stay together since they have loads of fans and they would upset sooo many people when they're together they're stronger and their career could go on for ages"
Sarah, Watford
"Finally something good is happening for music, personally I dislike 1D and they're the worst thing to have happened to music since Kurt Cobain died. I'm quite glad they're splitting up. 1D fans will soon find some other bad boy band to obsess over its no big deal."
Ashton, Hertfordshire
"I am very upset that 1D are not going to be 1D any more. Why did this have to happen?"
Aoife, London
"It's fine really! There is other music in the world and I don't think One Direction fans should only listen to their music."
Kimya, England
"I don't think One Direction should split up. They have go millions of fans and if they split up then think about how many hearts could break."
Sanjana, Newcastle
"I have loved One Direction for years and when Zayn left I thought it would be OK as they would stay together - but now they are splitting up it is very sad and I have just learnt all the words to their new song!"
Orlanda, Cheshire
"I think they should really stay together, but they'll still be amazing on their own (especially Niall)!"
Kate, Brighton
"I'm not a fan of 1D, but I don't think they will do very well on their own. The reason they got a huge fan base was because of how they sounded as a five - not on their own..."
Charlotte, Isle of Man
"I want to see how it goes but I think they would do better together."
Milly, Felixstowe
"I don't think 1D should split up because when they are together I think they sing better and dance better, but they should have a break now - and not later in life."
Jasmine, Gloucester
"I'm not a fan of 1D but it will be letting all their fans down. I'm sure that they wont be as popular as they used to be ."
Alicia-May, Nottinghamshire
"I'm not a fan of One Direction but I don't think they should split. They all auditioned on X Factor as solo artists and weren't good enough, so they were put together as a group."
Jessie, Glasgow
"I do not want them to split up, they are my favourite band and I've always liked them."
Jolie, Shrewsbury
"I think they will do OK on their own, especially Harry because he was very popular, but I still think they will all be better together."
Amie, Yorkshire
"I am a big fan of One Direction and I really hope that they don't split up."
Rhiannon, Bury St. Edmunds
"I am not a fan of One Direction and I think they should split and go their separate ways because they were better on their own on The X Factor."
Sarah, Preston
"I'm not a big fan of 1D, but I think they should stay together as they make great music together."
Lauren, Powys
"I think 1D should split up! Ever since Zayn left it was obvious the group would split up! Also, I think that Harry is getting less attention now Zayn has left. Everybody wants to know what Zayn is doing with his life!"
Alfie, Glasgow
"I think Niall should go on his own because he's talented and he's a guitarist. But the rest are good together. Good luck 1D!"
Emily, Sidcup