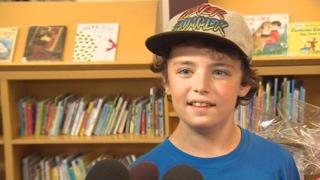 Library apology note makes boy famous
An eight-year-old boy who wrote an apology note to a library, for accidentally ripping a comic book, has been rewarded for his honesty.
Jackson made headlines across Canada and the U.S. after the Toronto Public Library shared the note he had tucked into the pages of a comic book he had damaged.
The note said: "I am sorry that a page ripped when it fell out of my bunk when I fell asleep reading. It won't happen again. I'm sorry, from Jackson."
A library worker found the note and shared it on social media.
With thanks to CBC News, Toronto