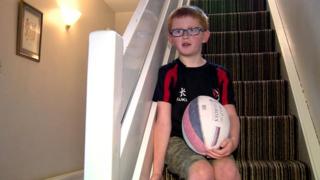 Young rugby player fights goggle rule
Ryan is seven-years-old and has played rugby for three years.
He has problems with his eyesight and plays with the help of special sports goggles, prescribed by an optician.
But, at rugby tournament in April, he was told to leave the pitch because the Irish Rugby Football Union, the organisation in charge of Irish rugby, bans all players from wearing any kind of eye wear.
Watch Ryan's story.