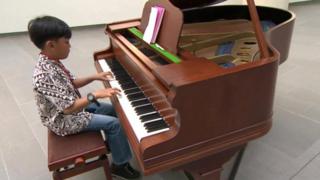 Ten-year-old pianist plays to patients
Ten-year-old Kino loves the piano and has being playing since the age of four.
During a visit to a Bristol hospital with his mum, Kino spotted a grand piano in the waiting area and decided to have a play.
He now volunteers regularly to play for the people in the hospital and he has been going down a storm.
Kino loves playing in the hospital and said he feels cheered on by the patients.
His performances have been such a success that the hospital is looking for more volunteers to play.