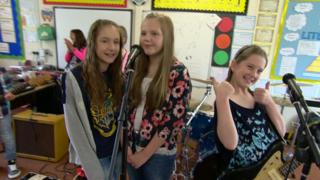 Pesky! sign to Coldplay's label
Pesky! are seven kids in a band from Cumbria, in the north of England.
They are Megan (vocals), Niamh (vocals), Patsy (bass), Kate (guitar / vocals), Joseph (guitar), Jessica (keyboards) and Harry (drums).
They've already been asked to play at a festival next year and they've even been on BBC Radio One.
The guys are signed to the same record label as Coldplay and Keane.
The oldest member is just 12 years old.
Martin's got the story.