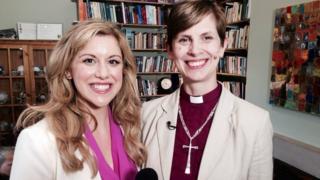 Kids quiz the first female bishop
In January this year the Church of England appointed its first female bishop.
The Right Reverend Libby Lane is now the eighth Bishop of Stockport.
The Church voted to change the law to allow women bishops last November after decades of arguments and a big vote.
Jenny went to meet Bishop Libby, with seven Newsround viewers, to find out how her first six months have been.
Bishop Libby told them "It's an exciting time to grow up."