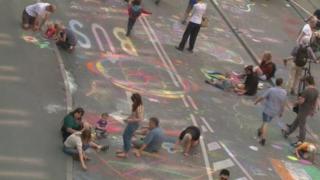 Street art sets new world record
People in Denmark have made it into the record books for their incredible street art.
Thousands of locals and tourists helped to create the world's largest chalk pavement painting in Copenhagen.
The previous record was held by the United States.
Within hours more than a kilometre of pavement had been covered in flags, flowers and fantastic creations.
The new world record of 18,598 square metres is more than 10,000 square metres bigger than the previous record from 2008. That was 8,361 square metres.