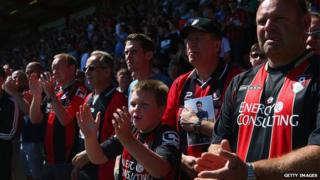 Getty Images
The match tonight between Bournemouth and Liverpool is the first league meeting between the two clubs ever.
Bournemouth's last trip to Anfield was a 4-1 FA Cup defeat in January 1968.
"This is a game where Bournemouth will realise they have really arrived in the Premier League," says Match of the Day commentator Steve Bower.
The Cherries suffered defeat by Villa last weekend and manager Eddie Howe believes Monday's match has got to be approached in the right way.
"It's a competition on winning the game"
"Our aim is not to outplay or outpass Liverpool, or any nonsense like that. Our aim is to try to win the game.''
"How we do that, and how you go about best doing that, that is down to how you see the game. It's not a competition on passes, it's a competition on winning the game" said Eddie Howe.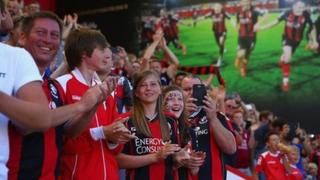 Getty Images
Bournemouth had the best away record in the Championship last season, winning eight and losing just five of their matches on the road.
Liverpool kicked off their Premier League campaign last weekend with a win against Stoke.
Manager Brendan Rodgers is expected to play an unchanged side for tonight's match.
Joe Allen, Daniel Sturridge and Jon Flanagan are all out injured, which could mean there's a chance Roberto Firmino could feature.
"Firmino is building up his fitness really well. He's a guy that helps himself because he trains to the maximum every single day and he's coming along very, very well," said Brendan Rodgers.
Liverpool are unbeaten in their opening home match for the last 11 Premier League seasons.