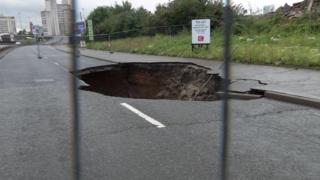 Heavy rain causes Manchester sinkhole
A nine metre sinkhole has appeared on a busy main road in Manchester, in the north of England, after heavy rainfall.
The hole is thought to be about 12 metres deep and is believed to be caused by a broken water or sewer pipe.
Barriers have been put up around the hole, which seems to be getting bigger.
The road may be closed for a number of weeks.