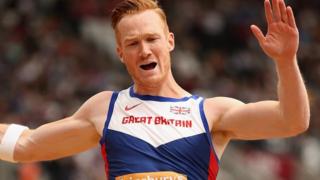 Rutherford queries Britain's new kit
Olympic long jump champion Greg Rutherford says not having a union flag on Great Britain's new World Championships kit is a "terrible choice".
The team received the new vest ahead of the World Athletics Championships later this month.
Olympic long jump champ Greg Rutherford says he isn't impressed.
He said on Twitter that not including the flag was a "terrible" decision.
Other athletes have also criticised the decision.
The design of the new kit was led by British Athletics - the organisation in charge of running the team.
It's their name that now sits where the flag might have been.
They say they did it to create a "strong team identity", similar to the UK cycling and swimming teams, who both have their team name on their kit.
And they point out that Team GB also did it during the 2012 Olympics.