Chelsea manager Jose Mourinho has confirmed that club doctor Eva Carneiro and head physio Jon Fearn won't be on the sidelines against Manchester City.
It follows a falling out over their decision to treat Eden Hazard in their last match against Swansea.
The pair ran onto the pitch after the Belgium forward was injured in the match against Swansea after being called on by the referee.
He had to be taken off the pitch for further treatment.
That left Chelsea with just nine players - as goalkeeper Thibaut Courtois had already been sent off.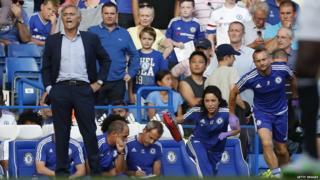 Getty Images
Mourinho showed his anger from the sidelines then said after the match that they "didn't understand the game".
Missing for match against Man City
Now in a press conference, Mourhino read a statement saying that both Dr Carneiro and Mr Fearn will be missing from the dugout on Sunday when Chelsea play Manchester City.
"That does not mean that Sunday is for the rest of the season or their careers - they will not be on the bench on Sunday, that is clear, that is my responsibility," he said.
Instead the pair will work with first-team players at Chelsea's training ground.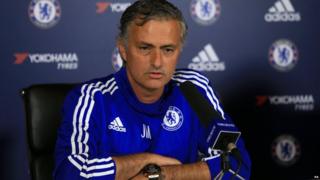 PA
Mourhino insists he has a good relationship with the medical department and praised them.
"Normally when things go well managers keep it to themselves, I have praised them lots of times in the last couple of years and they don't forget that.''
"They also told me that we have had disagreements during that period, we need disagreements to improve. We work together and we improve together, That is the way we do things. It is a relationship that is open to disagreement," he said.
But lots of people have supported the medical team's decision to come onto the pitch.
"Everyone has to respect the fact that the doctor is in charge," said Jiri Dvorak, FIFA's chief medical officer.