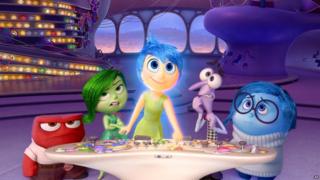 AP
Inside Out has barely hit the big screen, now makers say they're releasing a new sequel 'short'.
It'll be all about lead character Riley's first date.
The catch is, makers say you'll only be able to watch it if you buy Inside Out when it comes out on DVD.
This happened with Frozen too - to watch the Frozen Fever short you had to pay to watch Disney's Cinderella at the cinema.
We asked what you think about 'short' animations.

YOUR COMMENTS:
I think it's a waste of money because its only a short animation.
Rahayma, London, England
I think Inside out is one of the best films from Disney! I'd pay for the short film!
Jack, Nottingham, England
I like shorts and I wanted to see Cinderella and Inside Out anyway so it wasn't a problem for me.
Victoria, Scotland
I hated the movie it was so boring and i fell asleep watching it.
Matthew, Highlands, Scotland
I wouldn't want to pay for the DVD just to watch the short. They should either make a longer film or release the short in some other way.
Osha, Birmingham, England
I don't think it's worth it because you're paying about £15 for a 10 or 15 minute movie.
Bethan, Somerset, England
I think it would be a great success, however I wouldn't pay extra for it.
Bethany, Sutton, England
No I don't think it's going to be a big hit because other longer films are going to come out.
Andrew, Birmingham, England
I think it would be a good idea to make a proper sequel, because Inside Out is so good and I want to find out what happens next in Riley's life.
Ella, Manchester, England
I think inside out is a big hit for Disney again, but I think you shouldn't have to pay to see the short sequel.
Katie, Staffordshire, England
I think that it's just a rip off because if your paying the same price as a normal DVD, also it's only on for 7 minutes so there's no point really.
Tamzin, Tamworth, England
I have seen Inside Out and it is a great film but the shorts they release seem to be overpriced and a bit boring. I would prefer another whole movie instead of a short.
Emily, Barnsley, England
I think that its not really worth it because its only a short movie which really should be in the film.
Andrew, Birmingham, England
I love Inside Out, but I think it is a slight rip off because you have to pay for something so short.
Lily, Essex, England
I think Inside Out is going to be a huge huge hit for Disney.
Matthew, Falkirk, Scotland
Thank you for your brilliant comments, this chat page is now closed.