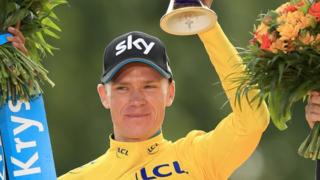 Chris Froome: I can win five more times.
Britain's double Tour de France champion Chris Froome has been speaking for the first time since his victory.
He says he can win the title five more times.
The tour is a very tough, steep, international cycling race that's known as one of the hardest tests of human endurance.
But during the race this year, some people doubted his performance.
They questioned his stamina, claiming he couldn't do so well, without help from performance enhancing drugs.
Froome believes he will never be able to completely silence the questions over whether he is drugs-free.
And he admits he still has to win over his doubters.
''I do want to be a spokesman for clean cycling - I believe somebody has to stand up for the current generation. I'm happy to do that.
I'm happy to release more information when I can and to show people that they can trust these performances.
Because from my point of view, if I can win the Tour de France clean, then you can win any bike race clean.''
He says the abuse he suffered from the crowd was very difficult and says ''no sportsman should have to go through what we went through".
He says he's never considered giving up. ''I am going to keep racing as hard as I can until this body doesn't allow me to any more.
All of that is just a sideshow. It's not going to stop my goals or ambitions.''
Chris Froome will now race the Vuelta, which starts on August 22nd.